Call of DutyHostile Takeover
To launch the 14th installment of one of the highest-grossing annual entertainment franchises in the world, we needed to find a new way to tell fans about Call of Duty Infinite Warfare. So we invaded Black Ops 3, the most successful game in franchise history, and challenged the CoD community to embark on an internet-busting code breaking exercise, facilitated by the Reddit community and a chatty Facebook Messenger bot that we helped build/program – ultimately facilitating over 6MM FBM conversations in the first 24 hours.
Digital Title Lead for COD (Agency)
Product Integration, Cross-Channel Campaign + Facebook Messenger Bot
Nils Westergaard, Charles Calixto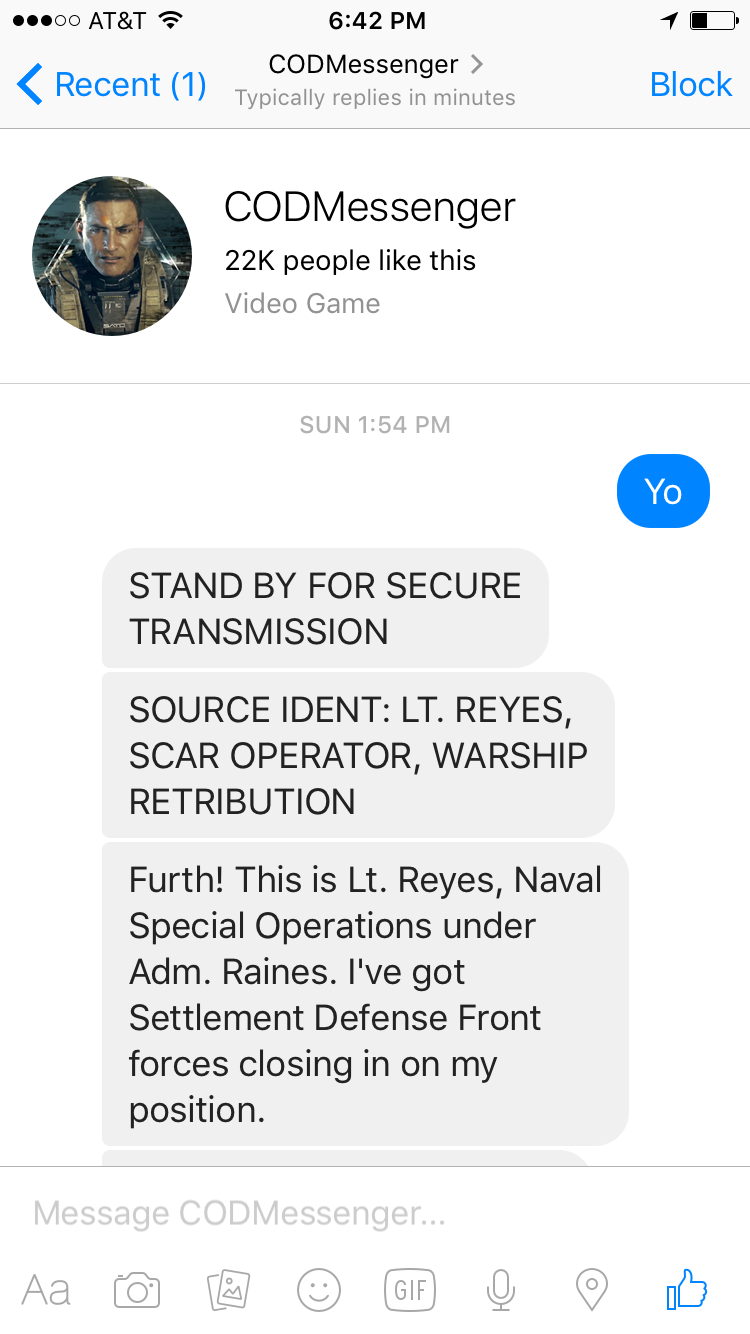 Our goal was to own the gaming conversation for 72 hours, so we broke the narrative down into a few key "moments" to drive social conversation.
The first was a subtle teaser in fan-favorite Black Ops III map Nuk3town. In it, we introduced the Olympus Mons, mothership of the Settlement Defense Front – a symbol of the evil we would later ask the community to rally against.
The Olympus Mons appears in Black Ops III.
A day later, SetDef appeared in the game – as well as across social media channels – and made their evil presence felt.
The bad guys arrive.
On the third day, a hero emerged.
The bad guys took the map over, but our hero, Lt. Reyes, was able to break through and identify what was going on. He suggested that we switch comms to a more secure channel: (Facebook) Messenger.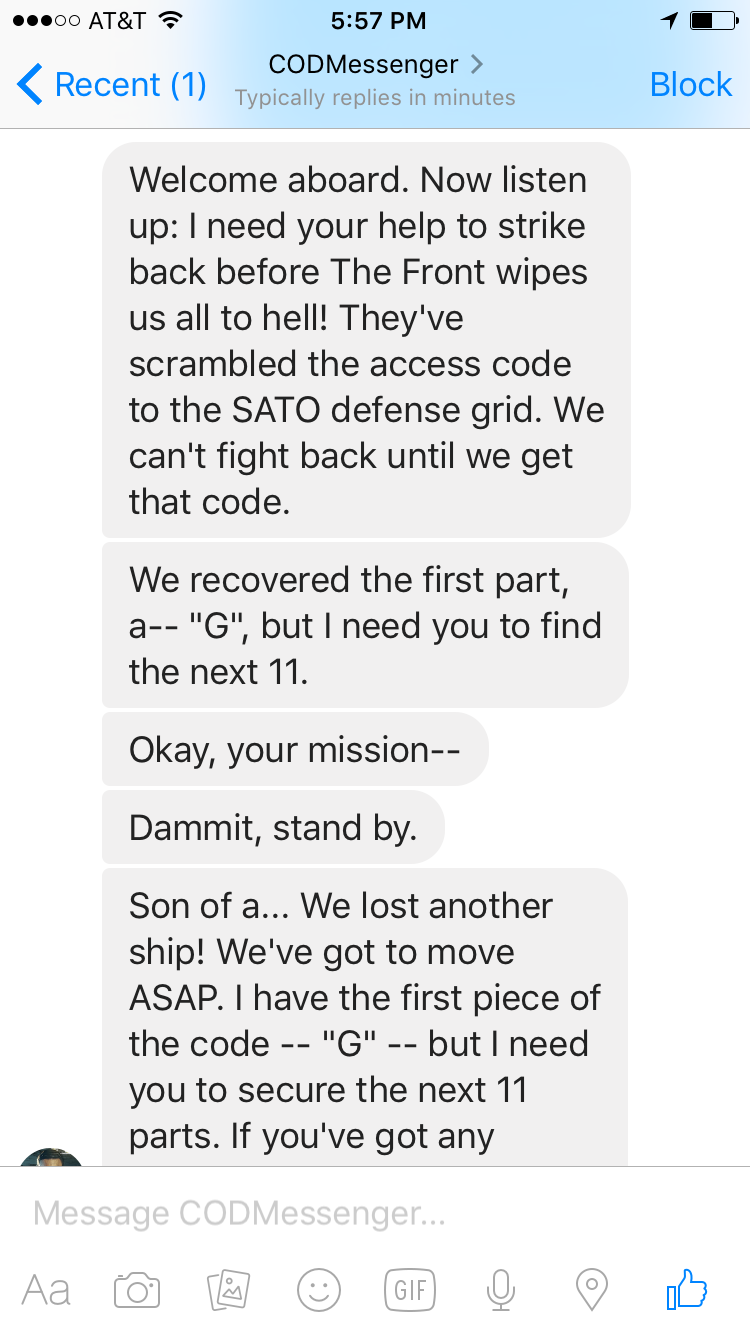 Reyes delivering the mission.
There, Reyes explained that the bad guys had hidden a code in Nuk3town that needed to be broken in order to stave off the attack. The community worked together admirably to crack the code – which included pieces in different languages, across different internet locations and even WITHIN the source code of COD.com.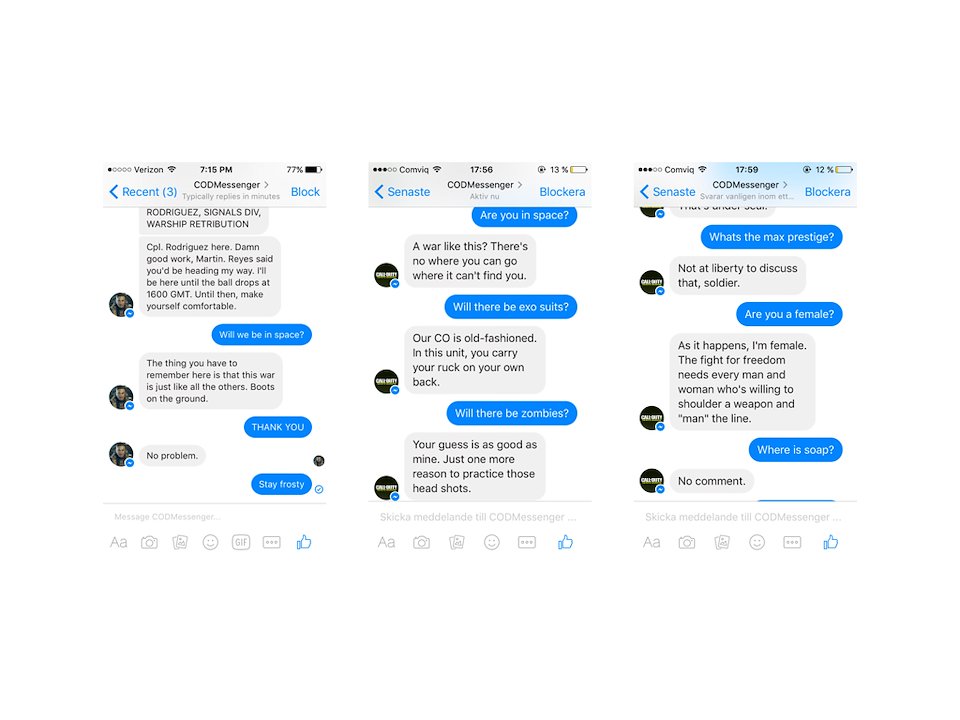 Some sample conversation.
In addition, we pre-programmed the bot with lots of information on the new game – it did a great job of turning all conversations back to a focus on the game (and away from sensitive topics like politics, religion, etc.).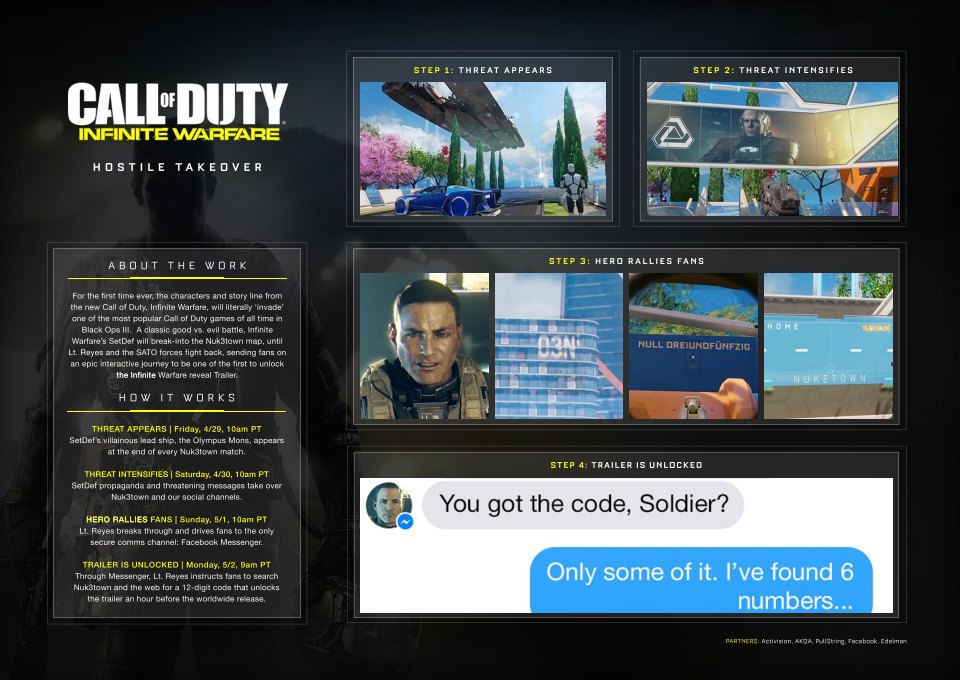 All-in, the community took about 3 hours to crack the code, but the ongoing engagement in Messenger - and the resulting PR value - created ripples throughout the online COD community.